住民主導のまちづくりと人材育成
Citizen-Led Community Development and Talent Development
◆◆ Entrepreneur ◆◆
加藤せい子 Seiko Kato
◆◆ WIT Support (2012-) ◆◆
ビジネスモデル移転先の紹介
メンターのマッチング
組織づくりプロジェクトの共同開発と助成
米国視察
ブランディング専門家への紹介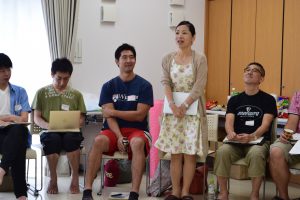 Program replication
Mentor matching
Funding and co-creating organizational development project
Field visit to the US
Connecting with branding experts

◆◆ Location ◆◆
岩手・宮城・福島県を含む全国各地(岡山県が活動拠点)
Multiple regions including Iwate, Miyagi, and Fukushima
http://www.chimichi.org/
◆◆ Issue ◆◆
日本の非都市圏の多くではコミュニティが衰退し、経済・福祉・市民生活等様々な側面で課題が生じている。まちおこしの試みがなされていても、地域住民が主体ではなく、担い手不足が指摘されることも多く、地域資源や地域の人材を有効活用しきれていない。
Many remote communities in Japan are becoming increasingly resource constraint and poor, which leads to economic, welfare and civic problems. Although there are various projects piloted to develop communities, implementation is a challenge due to the lack of local community resources.
◆◆ Solution and Input ◆◆
住民が自らの特技や地域の資源を活用しながら、 地元の文化・芸術・自然に触れる様々なプログラムを実施する(一人一品運動)。一人一品運動は市民主体のコミュニティ開発手法であり、イベントの企画者と参加者の双方が住民になることで、地域の魅力の再発見と個人の可能性を引き出す。
By leveraging existing skills and and resources from within the community, residents are delivering programs that focus on rediscovering the value of their local culture, art, and nature ("One Person One Art" movement). Since the residents play roles both as planners and participants at local events, these events are useful to redsicover the community's strength and unique value, while also realizing one's own potential.
◆◆ From Output to Impact ◆◆
一人一品運動のノウハウは、宮城県亘理市や石巻市など東北の5地域に移転され、震災後の4年間で、400名以上がワークシップ等を企画し、6,000名以上がこれらのプログラムに地域内外から参加した。「若者や女性がまちづくりに参画するようになった」、「イベントが持続的な小規模ビジネスへ発展した」等の変化が現われている。
The knowledge and skills of "One Person One Art" model has been disseminated to five areas in Tohoku including Watari City and Ishinomaki City in Miyagi. More than 230 people organized the events and the number of participants is over 4,600. The program impacts so far include youths and women participating in community development and events turning into small, sustainable business.